As teachers, we may never know the breadth or depth of impact we have on our students, but sometimes we are fortunate enough to learn that we have shared something valuable with our colleagues. It is even more exciting to find out that a colleague has, in turn, shared that technique or tool with her students. I have been a passionate advocate for visual notetaking in the classroom since I stumbled upon author and designer Mike Rohde's book, The Sketchnote Handbook, about two years ago. As an elementary art specialist, I saw that, after incorporating the book's techniques into my classroom, using simple images to synthesize content and demonstrate understanding came naturally to students. Kids learn to draw before they write, and pictures are how they make sense of the world. A previous generation referred to this form of notetaking as doodling, but that is starting to change. One reason this effective tool—which uses a combination of images and text to make meaning of verbal or text-based information— hasn't made its way into many teachers' hands is that the data-driven testing craze has usurped the time and energy to explore or try any new creative literacy strategies. With new math and reading curricula rolled out frequently, districts barely have time to train teachers the basics, much less explore creative literacy tools. I decided to affect change within my immediate circle of influence and utilize these visual skills on a daily basis with my elementary art students. For the past two years, I have offered professional development workshops on visual notetaking and literacy to colleagues in my district to increase awareness of this literacy tool. These collaborations span across content areas and grade levels—with teachers in special education, teachers in social studies, and teachers in elementary through high school.
THE SCIENCE OF MEMORY
The success of visual notetaking is backed by science. The Picture Superiority Effect refers to the phenomenon that we remember pictures better and longer than words or text. If students read text alone, three days later they only remember 10 percent of the information—but adding a picture to the text increases recall to 65 percent. And dual-coding theory says that our brains process and store visual information differently than verbal or text-based information. When students use images and text in notetaking, it gives them two different ways to pull up the information, doubling their chances of recall. Yet, when I first learned about visual notes, a teacher in my building made a student redo multiple worksheets for "doodling" in the margins, and other students would echo that they would get in trouble with their teacher for drawing. Why aren't more teachers providing students with this option? And just as importantly, why are students actually being reprimanded for their natural instinct to record ideas visually?
A PICTURE IS WORTH A THOUSAND WORDS
One recent experience helped me realize the powerful ripple effect of teacher leadership and collaboration. I met Ms. G., who teaches English at the Juvenile Detention Center in Wauwatosa, Wis., during a notetaking workshop I led this summer. She invited me to her classroom to teach her students the technique in a simple way. A dozen teenagers settled in and opened Beverley Naidoo's Out Of Bounds, an anthology of short stories about apartheid. For this class, they would read aloud and draw out the storyline on whiteboards. Ms. G. gently encouraged students—there were all levels of reading ability, ranging from elementary to high school—when they stumbled on a name or difficult word. When she stopped the reader, she asked, "What just happened, and what pictures could we draw to show that?" In notes left on the board from the previous class, I could see that Ms. G. taught her students several techniques from my workshop. They had gotten the hang of using literal images to communicate complex concepts and emotions. They had made effective use of stick figures to show relationships between characters and used words and arrows to add clarity and meaning to their drawings. They had even used different fonts to stress the importance of main concepts and word bubbles to show who was saying what or to give meaning or detail to an idea.
For those 45 minutes, the marker became a transfer of power and a voice in the classroom. Most of the students offered to read a section of the book out loud or suggested visuals that would bring life to the text. Personal expression, demonstration of comprehension, and confident engagement were visible through a dry-erase marker. Students who would have not been able to engage with the text in other ways could still do so through the drawings used to represent concepts. Developing visual vocabulary is just like increasing verbal or textual vocabulary—it takes practice to move it into working memory.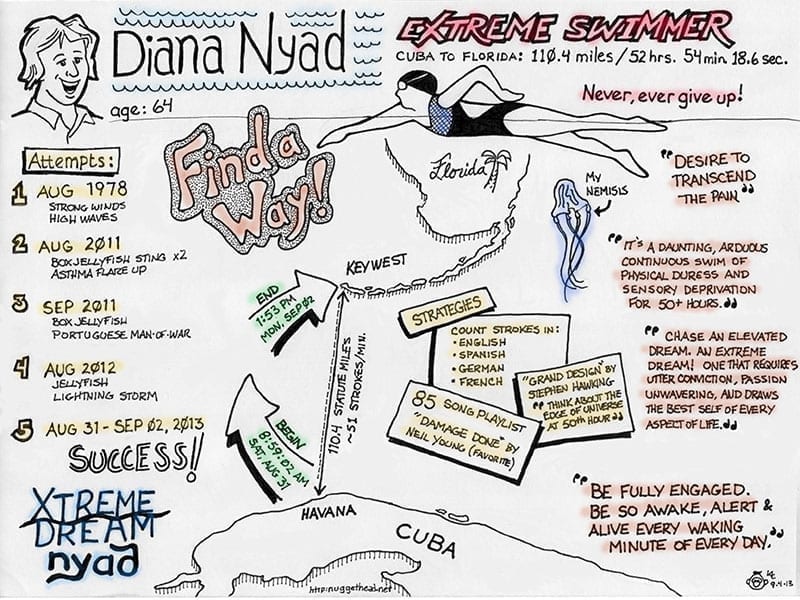 VISUALIZING SUCCESS
The class left me with a reminder that visual notetaking could have infinite possibilities for so many students—minority students, students on the autistic spectrum, students with dysgraphia or dyslexia, English-language learners—if we could just put this tool into their toolboxes as another means to demonstrate their understanding. Can a simple literacy tool like visual notetaking support learning in the classroom and even increase personal agency for incarcerated students who struggle academically? Ms. G. provides proof: Since that first class, she has used visual notes as an integral part of helping her students learn vocabulary from the books they read and give students the option to respond to a writing prompt with a visual answer first to help them think more deeply and communicate more clearly. One Englishlanguage learner who struggled with written definitions of vocabulary drew out his understanding and was able to visually communicate the definitions correctly.
When teaching students to use visual notes, it is so important to foster a safe space for students to take risks and try. In workshops, I find that the main obstacle for teachers is their fear of drawing. Teachers use the "but-I-can'teven-draw-a-stick-figure" excuse, but I encourage them and let them know that it is actually better if they draw poorly because it isn't about art—it is about ideas. If a teacher is brave enough to step up to the board and draw poorly while still communicating what she needs to relay, it gives students permission to do the same. The author Margaret J. Wheatly writes, "A leader is one who … has more faith in people than they do, and … who holds opportunities open long enough for their competence to reemerge." This is true for teacher and student leadership as well. We should strive to show our students and colleagues that we will hold space for them until their competence and creativity emerge. Visual notetaking is one small but powerful way to enable students— and their teachers—to take the lead.